Mark is a Kennel Club 'A' Panel Field Trial Retriever judge and travels extensively throughout the UK and Europe, where he is also requested to provide training to individuals and groups. He has been working his dogs for some years and came to the fore in competitions with his very successful Field Trial Champion Calderhey Adder. Sam represented England in the Retriever Team and qualified for the I.G.L. three times in 2009, 2011 and 2012.
​
In 2011 Mark began introducing his young dog Riley, Field Trial Champion Leacaz Ricky Of Caytonfell to competition. Riley has proved himself in working tests, field trials and is regularly out with Mark in the shooting season. ​​He has represented England in the Retriever Team from 2012 to 2017 and an IGL Qualifier in 2013 and 2017.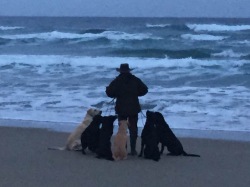 Jeg heter Trond og har hatt trent retrievere for jaktprøver siden -86. Jeg startet med Golden av utstillingstypen, et par av disse ble NJCH.
Gikk etterhvert over til labrador av jakttypen, og har har oppnådd gode resultater med flere av disse.
Med Searover Kits Dog vant jeg bla annet det svenske og det norske mesterskapet + den danske eliteprøven, unghundsderby i Sverige og unghundsmesterskapet i Norge.
​
Er i første rekke hundefører,- og liker å trene og konkurrere med hund, men har også stor glede av å se på og dømme gode hunder i arbeid. Aase,- min kone,- og jeg har i dag 6 labradorer og en golden ,- alle av jakttypen som vi trener og konkurrerer med. Vi har også et lite oppdrett sammen.
​
Siden 2016 har jeg holdt jaktkurs for retrievere på heltid,- og har hatt oppdrag i både Sverige, Danmark, Island og Norge. Vi holder til ved Hønefoss, og kjører mange kurs/treninger der. Jeg er autorisert jaktprøvedommer for retrievere, og er også FCI dommer.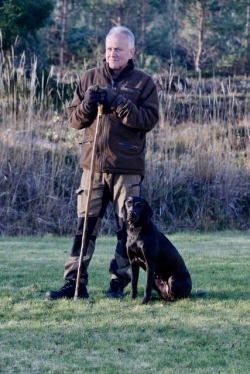 Tack för inbjudan att döma eventet på Kiplingebergs Gods i maj.
Kiplingeberg kommer för mig alltid att vara förknippat med en av mina bästa vänner inom retrievervärldem, Sören Norén som bodde alldeles i närheten. Vi umgicks,vi tränade och deltog med våra hundar på gårdens fågeljakter.
Ett stort tack till Lisa o Jakob som gör att detta event kan genomföras.

Några rader om mig
Har varit retrieverägare i 40år
Uppfödare i 30 år
Jaktprovsdomare i 25 år
A-provsdomare i nära 15 år
Har varit domare på A-B och C-prov i ett antal länder i Europa.

Jag hoppas på en helg med bra hundprestationer som kommer att bli känslosamt för mig med tanke på helgens egentliga betydelse!
Andreas Josefsson, Sverige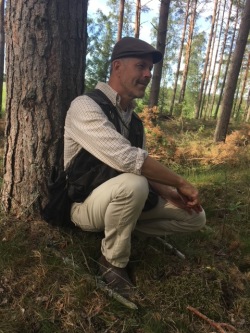 Jag bor i Nybro som ligger utanför Kalmar i Småland. Där bor jag ihop med min fru Fia och vi båda delar intresset med att träna och tävla med våra retrievers, som för närvarande är två Flatcoats och en Labrador.

Jakt och framförallt jakt med retriever ligger mig varmt om hjärtat och under säsong försöker jag vara med och apportera och även jaga själv så mycket jag hinner.

Att starta på prov gör jag gärna, både på A-, B-prov och WT. Det sistnämnda är ett härligt sätt att tävla och möta trevliga människor och när det är lag-tävling så blir det ännu mer intressant.

Jag har under flera år dömt wt och även varit provledare för B-prov, unghundsderby och Flatmästerskap. Jag blev nyligen auktoriserad till att döma B-prov och stortrivs med det.

Jag tackar för inbjudan att döma detta behjärtansvärda arrangemang och ser mycket fram till att få träffa er alla.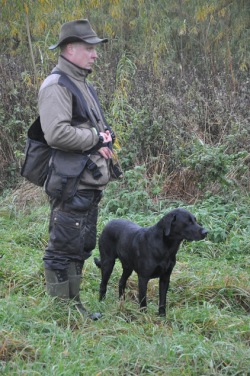 I got my first labrador year 2000. I am a serious hunter and I wanted a dog that can pick up game. My first dog breeder Maija Lappalainen (Kennel Jummi-Jammin) made me interested about competing with dogs. Of course I had done some mistakes with my first dog and decided take a new puppy from same breeder year 2003. That dog FI & SE KVA Jummi-Jammin Frankenstein taught me a lot and I made great results with him in cold game tests.

Next puppy I got year 2006 FI & SE KVA Jummi-Jammin Nefernefernefer. I got her very soon cold game test champion in Finland and Sweden. I was little bit unlucky with her because her elbows got broken when she was only four years old. Same time (year 2007) when I trained her I got new puppy from Hungary. CIT FI & SE & NO KVA FI & DK & SE KVA-FT Blackthorn Bion has been a perfect dog for me. I have won with him a lot of trials and working tests. He has also won Finnish Labrador championship 2009, Swedish retriever championship year 2012 and 2014 and he has elected best hunting Labrador of the year four times in a row. Now I am competing with Wijmas Mumin who is three years old and has won already some field trials.

I started to breed Labradors year 2012 with kennel name NO MORE. At this moment I have four dogs in training and of course I also hunt a lot with them.

I have been professional gundog trainer for retrievers since 2013 when I started my own company called Koirapalvelu Tomi Sarkkinen. Working with different dogs and races has made me better trainer.

I am now ability test, working test and field trial judge. I love to watch dogs which can work in a good relationship with handler and can still work independently. We don't need a dog to pick up that bird which we can pick up ourselves - we need a dog if the game is missing!

Thank you for inviting me and looking forward to see you all!